ARTSQUEST ANNOUCES SEPTEMBER SHOWS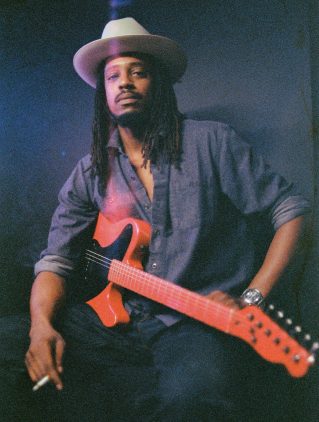 Black Joe Lewis & The Honeybears joined by Cedric Burnside will perform this fall
BETHLEHEM, Pa. – ArtsQuest is thrilled to announce two upcoming shows in the Musikfest Café presented by Yuengling. The excitement begins on Monday Sept. 26, when King Crimson Founder, Robert Fripp and his manager David Singleton will host a host a one-of-a-kind conversational experience for a live audience while on Thursday Sept. 29, Black Joe Lewis & the Honeybears with co-headliner Cedric Burnside will bring their signature blues to the stage. Tickets for ArtsQuest Members will go on sale Saturday July 23 and for the public on Monday July 25, at steelstacks.org. For more exclusive ticket access and advance purchase opportunities, become an ArtsQuest Circle donor today. 
After more than two decades on the music scene, Joe and the Honeybears, are still going strong, "cashing checks and snapping necks." Over the course of his career Joe has honed his unique blue-riffing guitar style while finding his true voice. Influenced by the Godfather of Soul James Brown and Howlin' Wolf, Joe and the Honeybears have released six full-length albums, made numerous television appearances and headlined Coachella, Bonnaroo and Musikfest.
There are few artists like Cedric Burnside. The Mississippi Hill Country blues guitarist and singer/songwriter contains within him the legacy and future of the region's prescient sound stories. Burnside's two Grammy-nominated album projects— the 2015 Descendants of Hill Country and 2018's Benton County Relic— channeled the blues spirit on drums, guitar and vocals in the North Mississippi Hill Country tradition. His newest album I Be Trying is a 13-track album treatise on life's challenges, pleasures and beauty.
On Monday Sept. 26   An Evening of Talking with Robert Fripp and David Singleton (An Evening of That Awful Man and his Manager) will be hosted on stage with Fripp and Singleton sharing stories from the music business and behind the scenes anecdotes for a one-of-a-kind night in the Café. Robert Fripp is a founding member of King Crimson, contributor and collaborator with Brian Eno, David Bowie, Daryl Hall, Peter Gabriel and many other music legends. Fripp will be joined by David Singleton who established DGM with Fripp in 1993 and has reluctantly managed King Crimson since 2018.