Volunteer Spotlight – April 2019
Our Corporate Volunteer groups are a huge part of making Musikfest successful! Each month, our volunteer committee decides on volunteers to spotlight! For April 2019, we've selected Jill from B.Braun! Volunteering with a group is a great way to enjoy the 'fest! If you would like to volunteer with your company, school group, church group, etc. please reach out to Courtney.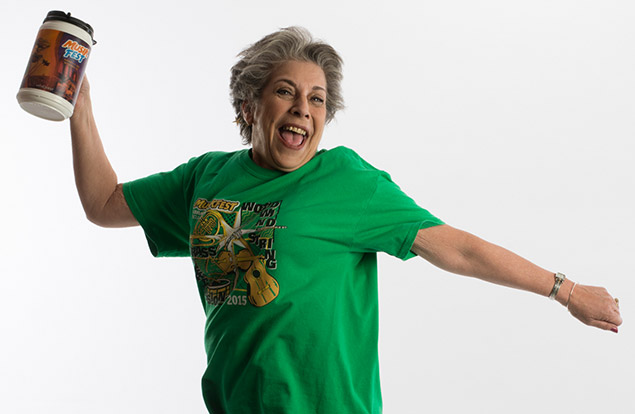 Q: Do you have a favorite memory from the time you've spent volunteering with your company?
A: They are all favorites for me. Watching our volunteer staff grown each year and our employees really looking forward to returning to work with their co-workers.
Q: What do you think is the greatest benefit of having a company represented on the ground at Musikfest?
A: In our busy work life, we sometimes don't have the time to spend with other co-workers and I find it enjoyable to catch up and renew friendships during our shifts and in many cases, working with fellow employees that we didn't know before. It's a win-win for all.
Q: If you could bring one act to Musikfest or some other event, who would they be and why?
A: I think each year, the line up is diverse and terrific. I really couldn't pick someone I would like there that you haven't already had that would be financially attainable.
Q: When you're not volunteering for ArtsQuest, what do you like to do in your spare time?
A: I do other volunteer activities, especially through B. Braun, where we believe it's always great and fun to give back to our community. I'll also never pass up a beach on a warm sunny day.
Q: Does your company volunteer or offer charity to any other organizations?
A: We do many non-profit events. Some examples are a dress down day every month for a different charity, we also do several food drives per year, do a yearly school supply drive for the Boys and Girls Club of Bethlehem, sock drives for the Rescue Mission, and other events when the community requests it. Every year we participate in Ice Cream Wars at the DaVinci Center with our employees voting for the ice cream flavor we will submit. We have a very large contingency at the Via Race annually, in addition to other races through out the year. We are very involved with the United Way and do a big campaign, including participating in the "Day of Caring". We participate in "Suites and Treats" at the LV Iron Pigs which is a safe Trick or Treat event at Halloween for several charity organizations. B. Braun is also financially donates to several charities in the Lehigh Valley. B. Braun also has a company band consisting of all B. Braun employees who play at many non-profit events free of charge. I'm sure I'm forgetting some things, but as you can see, we are very proud to be in this community and are always willing to assist where we can.
Q: What is your favorite spot to work at Musikfest?
A: For the past several years, our team has been at the Festplatz ticket booth and we enjoy it very much.