April 2021 Volunteer Spotlight
Each month, our volunteer committee decides on volunteers to spotlight! In April 2021, we selected a friend who makes everyone smile: Carol Shriver!
To sum me up I have one picture of myself in a frame that states "Life is short, make lots of funny faces."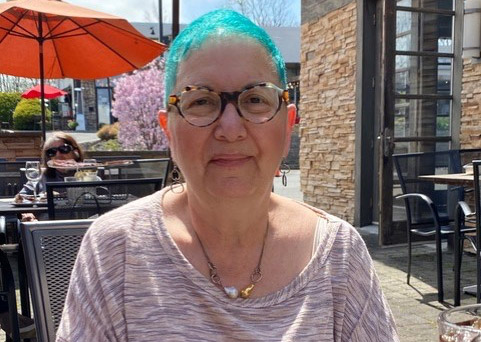 Q: What inspired you to begin volunteering?
A: My friend, Luanna Labriola, inspired me to become a volunteer after she shared her experiences volunteering at Musikfest. So I took the plunge & began to volunteer & have not looked back. I love the interaction with patrons that come to the events, and the volunteers I have met throughout the years that have become a part of my extended family. In fact, I appeared on one of the postcards to promote volunteering. The postcard read Make Life Long Friends.
Q: Which ArtsQuest event is your favorite to volunteer at?
A: It will be thirty years in August 2021 that I became an ArtsQuest volunteer. Throughout those years I have volunteered for: Christkindlmarkt, PEEPSFEST, Oktoberfest, Levitt, The Cinema, Musikfest Café, Special Events and of course Musikfest. I also participated in the Ambassador Program.
One of my fondest memories was volunteering for Musikfest as Poultry Patrol for the Chicken Lady. My job was to make sure no one ruffled her feathers as she walked through the crowds of both young and old. That memory still brings a smile to my face.
Q: Do you volunteer anywhere else besides ArtsQuest?
A: Not currently. In the spring and summer months, I frequently volunteer for Levitt. I love music and I cannot think of a better way to be introduced to various performers, and for free! Before Levitt, I was not familiar with the music of the Black Violins and now I am a fan of their music.
Q: When you're not volunteering for ArtsQuest, what do you like to do in your spare time?
A: In my spare time, I enjoy going to concerts, plays, travel, dancing, yoga, walking and meeting with friends.
Q: If you could pick any act for the Levitt Pavilion, who would you pick and why?
A: Jazz, part of an American Art form. Alternative music where many of the performers are on independent record labels and may be outside of mainstream music.
Q: What was the most recent bit of new music that made a lasting impression on you?
A: As I listen to various music you will frequently hear me say " I love this song". Most recently I am a fan of Gus Dapperton, Almost Monday and Inhaler.