Groups Partnering at SteelStacks to Highlight Opioid Crisis in Our Nation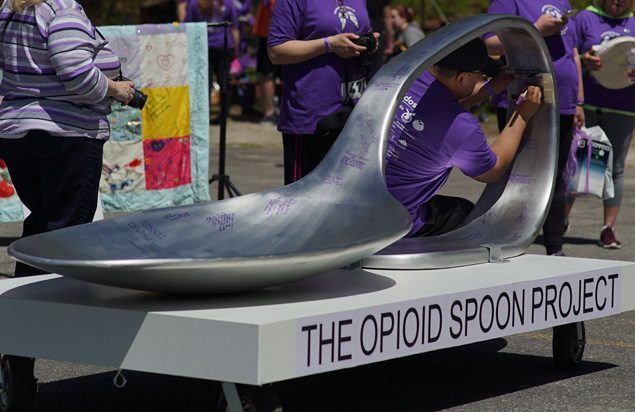 BETHLEHEM, PA—Starting in June, Speak Up for Ben, Voices for Change and ArtsQuest are partnering on a summer-long initiative to raise awareness of the deadly impact addiction and the opioid crisis are having across our nation. The Opioid Awareness Initiative kicks off June 6 as artist-activist Domenic Esposito brings "The Opioid Spoon Project" to SteelStacks' Air Products Town Square and concludes in September with the Lehigh Valley Fed Up Rally hosted by Voices for Change.
On June 6, 5-8 p.m., Esposito will bring his 800-pound opioid spoon sculpture to SteelStacks as part of his month-long, nine-state Honor Tour to memorialize those who have lost their opioid addiction battles. The tour, created by Esposito as a way of "giving back" to opioid-stricken communities, began May 11 in his home state of Massachusetts, where crowds welcomed the artist and waited in line to leave the signatures on the spoon of loved ones lost to the crisis.
Esposito has garnered national attention for his massive spoon sculptures created to look like a burnt opioid spoon after placing them at the doorsteps of the organizations he deems responsible for the opioid crisis. During his visit to SteelStacks, Esposito will speak about the project, as well as reaction as he's travelled up and down the East Coast. The evening is made possible through the support of Speak Up for Ben. A memorial vigil, led by Speak Up for Ben Executive Director Rhonda Miller will be held at 6 p.m. to remember those who lost their lives to opioids. The public is welcome to join and sign their loved ones' names on the sculpture.
"I cannot fully describe the impact the spoon is having on opioid stricken communities by offering a sense of peace, memories and hope for the future," says Esposito. "The stories I have heard are heartbreaking, so I am humbled and grateful for this opportunity to give back to these long-suffering communities in some way. I hope the Honor Tour helps many, and gains the attention of those who helped create and continue to profit from the opioid crisis. I am grateful and honored to be included in this opioid awareness initiative kick-off at SteelStacks, and look forward to meeting those who wish to leave their mark on the spoon."
From June 1-July 1, the nonprofit Speak Up for Ben is inviting the community to submit photos of family and friends who have lost their battles with opioids and other substances as part of the "Angels of the Valley" banner project. Angels of the Valley, which will feature photos of those in the region who have lost their lives to addiction, is designed to raise awareness of the issues of drug overdose and reduce the stigma associated with people who have lost their battles with the disease of substance use disorder.
The project, which is underwritten by Lehigh Valley Health Network, also recognizes the grief felt by families and friends in the community who have lost loved ones as a result of drug use. Banners will be displayed on the SteelStacks campus from late August through September, which is National Recovery Month. In addition, Speak up for Ben has announced that it is opening the OASIS Community Center in Bethlehem on June 28 to offer free support to families impacted by substance use.
"Our son, Ben, suffered for eight years with the disease of Substance Use Disorder developed as a result of prescribed opioids. We lost him in 2016 to an accidental overdose," explains Miller. "Our entire family suffered in silence, right alongside him, with little support. We are now speaking up to break the stigma of addiction. This initiative was developed to raise awareness that this disease does not discriminate—it can happen to anyone. Those who suffer with it and their families should feel no shame. There is help available, and we want families to know there is help for them, too.
"We are honored to invite families to openly join the conversation and participate in the Angels of the Valley banner project. We are truly grateful to ArtsQuest and to the banner sponsors for partnering with us to deliver this important message as part of the Opioid Awareness Initiative."
Individuals who want to submit photos for "Angels of the Valley" can fill out the online form at www.steelstacks.org or drop off an image at the Banana Factory, 25 W. Third St., Bethlehem, PA 18015, through July 1. Drop-off hours are Mon.-Fri., 8 a.m.-9:30 p.m., and Sat.-Sun., 8:30 a.m.-7 p.m. Submissions should include victim's name, hometown, birth and death years and an up-to-two-line memorial remembrance (Ex: Beloved Son, College Graduate, Advocate for the Arts). Photos dropped off at the Banana Factory can be picked up at the Banana Factory during normal business hours starting Aug. 1.
The Opioid Awareness Initiative concludes in late summer as Voices for Change holds its annual Lehigh Valley Fed Up Rally at SteelStacks Sept. 8. The event is a candlelight vigil, coupled with a slide show to remember those who have been lost and to support the victims' families.
"I am honored to be a part of the Opioid Awareness Initiative at SteelStacks and look forward to working with all involved," says Voices for Change President and Founder Linda Johnson. "This year will be the fifth-annual Fed Up Lehigh Valley Rally and we are excited to be holding the event at SteelStacks.
"The rally is a national event held on International Overdose Awareness Day, and it is an opportunity for the community to remember those who have lost their lives due to addiction. The event is a chance for our voices to be heard and speak out about the changes that need to be made around the disease of addiction, and to stand up and demand more affordable and effective treatment. As we come together with our local and state elected officials we can make a difference in the lives of the people in our community."
The National Institute on Drug Abuse reports that more than 130 people in the United States die daily after overdosing on opioids. The government agency calls the misuse of and addiction to opioids—including prescription pain relievers, heroin and synthetic opioids such as fentanyl—"a serious national crisis that affects public health as well as social and economic welfare."
"The arts can be a powerful catalyst to promote thoughtful dialogue and discussion on issues affecting our community and our nation," says ArtsQuest President & CEO Kassie Hilgert. "The SteelStacks campus and its venues are designed for a number of things but a major one is convening the community for dialogue around important topics. When Speak Up for Ben and Voices for Change approached us about serving as a host site for their programs, we felt strongly that the campus could be a catalyst for reflection and discussion. Opioid addiction is growing in our country and our hope that this partnership elevates awareness of what is truly a healthcare crisis."
About Speak Up for Ben
Founded in 2016, Speak Up for Ben is a local nonprofit focused on destigmatizing the disease of addiction. Through compassion and understanding of the family disease of addiction, the group seeks to provide education, support, comfort and healing to people who are at risk for, experiencing or recovering from Substance Use Disorder, as well as their families and the families of those who have lost their battles. This is accomplished through educational forums, community events and by providing supportive programming through the OASIS Community Center opening June 28 in Bethlehem. For more info, visit speakupforben.org/.
About Voices for Change
Voices for Change is a community group that has joined together to speak out about the disease of addiction. The nonprofit seeks to make changes at the local, state and national levels to stop the stigma of addiction, as well as provide affordable and effective treatment for those who suffer. As part of its mission, it also focuses on support for the families of victims, as well as educating the public on issues of addiction. For more info visit, www.voicesforchange.info.