ArtsQuest Adding 300 Summer Jobs at Musikfest and SteelStacks Over Next Few Months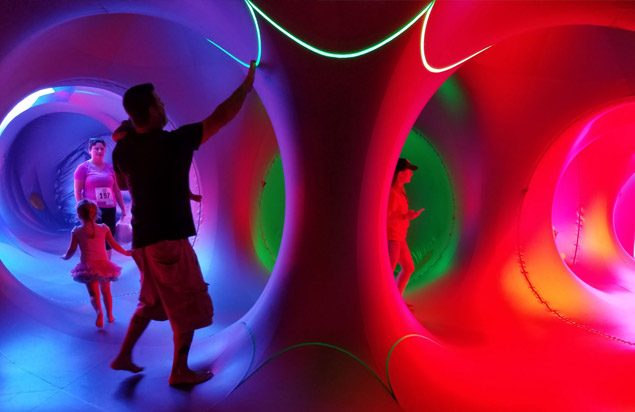 BETHLEHEM, PA—Whether a person wants to share the excitement of the Architects of Air experience with guests at Musikfest, or he or she wants the opportunity to enjoy the live concerts at Levitt Pavilion SteelStacks, ArtsQuest has hundreds of exciting part-time and seasonal positions available this summer.
In anticipation of a busy summer season, the nonprofit arts organization will be hiring up to 300 part-time seasonal and festival positions over the next few months, with many of the positions geared toward preparing for Musikfest, the nation's largest free music festival. Although some of the Musikfest-focused positions may only be a few weeks in length, many employment opportunities span the entire summer, from May through the end of August.
Positions available include approximately 30 new stewards working at Musikfest's Architects of Air inflatable luminarium, which is returning to the festival this summer, as well as operations assistants and event staff needed to support the Levitt Pavilion Summer Concert Series and ArtsQuest summer festivals and events. Last year more than 15,000 people visited Architects of Air – making it one of the hits of the festival – and this year the exhibit is returning with an all-new layout and design.
Other positions include summer camp assistants at the Banana Factory Arts Center, parking lot supervisors, retail merchandise assistants, transportation ticket sellers and beverage servers & assistants. Most of the summer-long opportunities will be in operations and event services, where approximately 80 positions will be added in the next few months. Candidates for all positions must be friendly, possess strong customer service skills and have an interest in being outdoors during the summer.
"ArtsQuest offers a variety of employment positions for individuals who really enjoy interacting with the public and take pride in delivering exceptional customer service experiences," says ArtsQuest Vice President of Human Resources Cindy Karchner. "These positions present excellent opportunities for individuals who have outgoing personalities – they're perfect for high school graduates and college students, as well as school teachers who are off for the summer and are looking to earn additional income."
"We've found that people really enjoy these experiences since they're fun, often fast paced and provide great experience working in areas like the arts and events management in which they hope to ultimately land a career. They have the opportunity to interact with visitors from across the U.S. and around the globe – what could be more fun than that?"
The complete list of seasonal and festival employment opportunities is available at www.artsquest.org/employment. Interested candidates must be a high school graduate or at least 18 years old and should follow the instructions for applying listed on the ArtsQuest website.