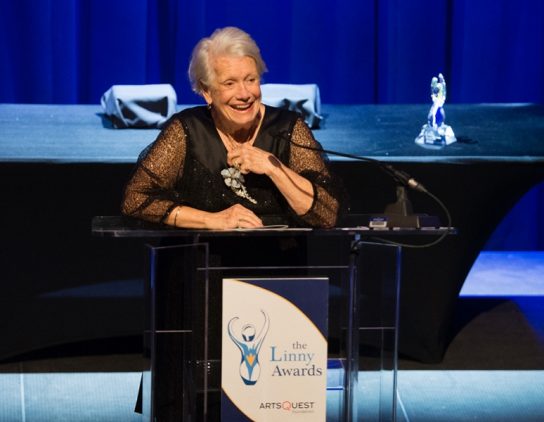 Nominations Now Being Accepted for 2017 Linny Awards
Winners to be Honored During Awards Ceremony Nov. 9 at SteelStacks
Know an artist or musician whose work has earned local or even national acclaim? Are you proud of an arts educator who's transforming students' lives through his or her work? Then the ArtsQuest Foundation invites you to nominate them for the 2nd-annual Linny Awards, the multi-discipline arts awards designed to recognize the extraordinary contributions made by artists, educators, businesses, volunteers and philanthropists in the Greater Lehigh Valley.
From now through May 14, nominations are being accepted for visual, literary and performing artists; volunteers; arts educators; and philanthropists who have made significant contributions to the arts through their work. You may also nominate area businesses for their dedication and support of arts and culture in the Lehigh Valley for the Linnys' "Business Supporter of the Arts" awards.
The 2017 Linny Award categories now open for submissions include:
Any individual, business or community group interested in nominating a person or business for the Linny Awards can do at www.artsquestfoundation.org/linnyawards. Winners will be selected by the official Linny Awards jurying panel, with the winners announced in early July.
Members of this year's jurying panel include:
Paul Farr, 2016 Linny Award Winner for Philanthropy in the Arts
Denise Parker, Northeast Middle School Teacher and 2016 Linny Award Winner for Arts Educator
Ashley Russo, Executive Producer, The Peak TV
Lissette Santana, Sr. Manager, Corporate Relations, PPL
Ricardo Viera, Professor of Art and Director-Curator, Lehigh University Art Galleries
Claire Lukas, Arts Educator and Artist
Neil Wetzel, Assistant Professor of Music and Director of Jazz Studies, Moravian College
Dave Lobach, President, Embassy Bank
Dick Boak, Director, Museum Archives and Special Projects, C. F. Martin & Co., Inc.
In addition to the awards made by the jurying panel, the ArtsQuest Foundation will present three awards to distinguished individuals from the region for their longtime commitment and dedication to the arts: The Pinnacle of the Arts Award, Lifetime Achievement Artist Award and Lifetime Achievement Volunteer Award. The winners of these three awards will also be announced later this year.
All 2017 Linny Award winners will be honored during the Linny Awards ceremony Nov. 9, 6 p.m., at Musikfest Café presented by Yuengling, located in the ArtsQuest Center at SteelStacks, 101 Founders Way, Bethlehem. Last year's inaugural Linny winners included Oscar and Tony Award-winning costume designer Ann Roth of Bangor, who received the Pinnacle of the Arts Award; Joe Brake of Coca-Cola Bottling Company, who received the Lifetime Achievement Volunteer Award; and internationally renowned sculptor Steve Tobin of Quakertown, who was presented with the Lifetime Achievement Artist Award.
Named after the late Marlene 'Linny' Fowler, a stained glass artist and community leader who supported artists and arts organizations throughout the Lehigh Valley for more than a quarter century, the Linny Awards are designed to recognize and celebrate the region's flourishing arts community. The Linnys are open to individuals and businesses living or working in Lehigh, Northampton, upper Bucks and upper Montgomery counties in Pennsylvania, as well as Warren County in New Jersey.
Proceeds from the Linny Awards go to support the nonprofit ArtsQuest Foundation, which Fowler helped found in 2003. The nonprofit foundation is focused on supporting and strengthening the long-term sustainability of ArtsQuest, the nonprofit that presents Musikfest and more than 2,500 other programs, events and educational classes annually for our region. For complete information on the foundation and the Linny Awards, please visit www.artsquestfoundation.org.